Odor Seal™ – Odor Eliminator & Degreaser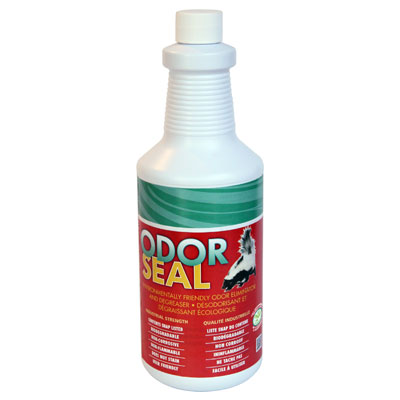 Odor Seal™ gets rid of the toughest odours, quickly, safely and effectively. Odor Seal™ works by encapsulating the odour. Odor Seal™ does not mask the odour with fragrances or perfumes.
Environmentally friendly
Non corrosive
Non flammable
Biodegradable
SNAP (Significantly New Alternative Policy) Program Listed
USDA Class C listed
Odor Seal™ MSDS      Odor Seal™ Product Sheet (pdf 1.7mb)
Where can Odor Seal™ be used?
Odor Seal can be used in all areas/situations that produce an odour such as home, office, automobile or boat. Use it to eliminate tough pet, cooking, smoke, vomit, decay and musty/mildew odours. Can be used in HV/AC systems.
"Odor Seal™ has delivered on all counts. We are happy to be working with an environmentally safe and effective product that makes our jobs easier. "
Steve Andrews
Sanitation Manager, Chinatown International District
Industrial Applications
Sewage treatment plants
Garbage dumpsters
Trucks
Chutes
Restaurants
Landfills and compost facilities
Public and portable toilets
Zoos and kennels
Holding tanks
Fisheries
Rendering plants
Odor Seal™ is also an effective degreasing agent and is excellent for use in restaurant grease traps.