Fire Block™ – Fire Retardant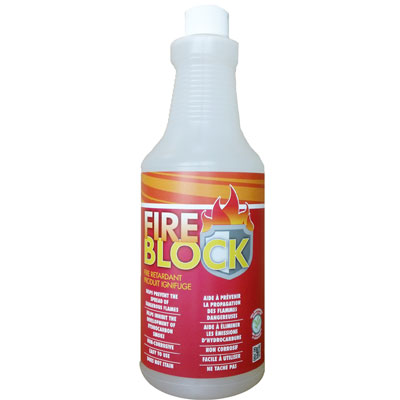 Fire Block™ is a specially formulated, environmentally friendly product which is used to retard fire in all Class A materials. It forms a thermal insulation barrier that prevents dangerous flames from spreading. Fire Block™ also inhibits the development of toxic hydrocarbon smoke.
For added safety against fire, Fire Block™ is used to treat Class A materials and surfaces such as uniforms, clothing, wood, pre-construction materials, furnishings, carpeting, packing materials, motor home interiors, holiday decorations and storage boxes.
Fire Block MSDS      Fire Block Product Sheet (pdf 3.8mb)
" Cold Fire™ is the future of fire suppression, giving trained personnel offensive options not previously considered. Re-equipping the suppression tool box with a combination of firefighter safety and offensive tactics allows attack teams a new level of confidence, with the adaptability to almost every fire emergency. "
Deputy Chief Bob Simpson
Nanaimo Fire & Rescue
Fire Block™ is easy to use. Just spray Fire Block™ on the item or surface being treated. In bulk applications you may also dip the item to be treated and allow it to drip dry.
Allow Fire Block™ to completely penetrate the item or surface. Allow the material to dry completely.
If you are using Fire Block™ to fire retard clothing, fabrics, etc. and plan to wash these items, it is recommended that Fire Block™ be reapplied after the third washing, as some of the product's effectiveness will be diminished due to washing.
For best results when mixing Fire Block™ with latex paint, mix an equal amount of Fire Block with an equal amount of paint.
Technical Information
Fire Block™ fire retardant was tested in accordance with NFPA 255 and ASTM-E84 Test for Flame Spread and Smoke Development Values by SGS US Testing for Class A (wood, paper, furnishings etc.) materials. 2011 Approved NFPA 701.
Test Results are as follows:
| | | |
| --- | --- | --- |
| Test Specimen: | Fire Block Retardant | Rating Classification |
| Flame Spread Index: | 15 | 0-25 |
| Smoke Developed Value: | 25 | 0-450 |
Since Fire Block™ falls into accordance with the rating classification shown above, it is considered an acceptable fire retardant product in accordance with NFPA 255.
Fire Block™ has performed complete DOT corrosion testing an the results are as follows:
Corrosion Rate
| | | |
| --- | --- | --- |
| | mm/yr. | in./yr. |
| Aluminum: | <0.01; 0.01 | <0.001; <0.001 |
| Steel: | <0.06; 0.07 | 0.002; 0.003 |
Comments
Per 49 CFR 173.137 (c) (2) a liquid is considered to have a severe corrosion rate if its corrosion rate exceeds 6.25mm (0.246 inches) a year on steel (SAE 1020) or aluminum (non-class 7075T-6) at a test temperature of 55C (131F).
Availability
Fire Block™ is available in a convenient 32 ounce pump spray (12 bottles/case) or can be purchased in 5 and 55 gallon drum quantities for bulk applications. No mixing is required.
Fire Block™ is considered to be non-toxic. Toxicity information is available on request.