Industries
Cold Fire™ is a trusted fire suppressant in law enforcement and fire departments, and has applications in other industries as well.
See how Cold Fire™ can be used in the following industries
Effectively suppress large & small fires.
Cold Fire™ is a totally organic fire suppression wetting agent that takes the heat out of fire. Available in 275 gallon containers to 13.5 oz spray canisters for kitchens, vehicles, boats or trailers, Cold Fire™ will extinguish a fire quicker and cleaner than any other extinguisher.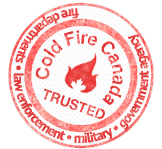 U.S. Forest Service approved agent for wildfire applications
Classified Wetting Agent
Considered an acceptable non-toxic substitute to toxic foams and Halon