An organic way to effectively suppress large & small fires.
Welcome to Cold Fire Canada Ltd. the exclusive Canadian distributor of environmentally safe products. Our top selling product is Cold Fire™, a totally organic fire suppression wetting agent that takes the heat out of fire. Cold Fire™ can save your life and your property. From 275 gallon containers for fire departments to 13.5 oz spray canisters for your kitchen, car, boat or RV, Cold Fire™ will extinguish a fire quicker and cleaner than any other extinguisher.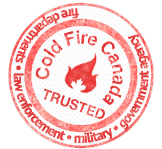 U.S. Forest Service approved agent for wildfire applications
Classified Wetting Agent
Considered an acceptable non-toxic substitute to toxic foams and Halon
---
See how Cold Fire™ can be used in the following industries
---
Other products from Cold Fire Canada
Fire Block™ – Fire Retardant
Fire Block™ is a specially formulated, environmentally friendly product used to retard fire in all Class A materials, by forming a thermal insulation barrier that prevents dangerous flames from spreading.
Odor Seal™ – Odor Elimination
Odor Seal™ gets rid of the toughest odours quickly, safely, and effectively. Odor Seal™ works by encapsulating the odour, rather than masking it with fragrances or perfumes.