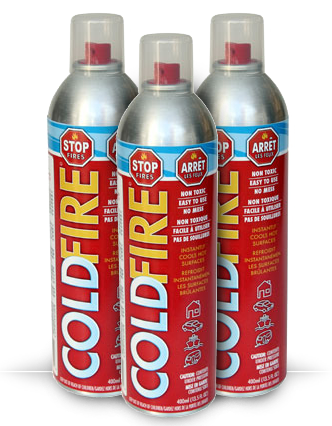 Why people choose Cold Fire™:
Cold Fire™ is an environmentally friendly fire extinguishing agent that puts out ANY fire faster, safer, with less water, less damage to property and less risk to first responders.
No specialized training required.
No specialized safety equipment is needed.
Non-hazardous and safe to handle and apply.
Does not harm the environment, firefighters or fire victims
Non-toxic.
Biodegradable.
Clean.
Non-slip.
Classified Wetting Agent.
U.S. Forest Service approved agent for wildfire applications.
EPA-SNAP (Significantly New Alternative Policy Program) listed.
Considered an acceptable substitute to toxic foams and Halon.
Non-corrosive—product can be dumped directly into booster tank. No need to flush out lines.
Unique thermal insulation capability. Helps to minimize heat exhaustion.
Extinguishes fires rapidly and on contact.
Prevents re-ignition when properly applied.
Encapsulates and breaks down hydrocarbons; thereby reducing hydrocarbon smoke and increasing visibility.
Enhances the penetration capability of water, extinguishing the fire faster, using less water, and thereby reducing water damage and water supply needs.
Indefinite shelf life when stored in closed containers. Store in a booster tank, water pressurized units or closed loop system for use anytime.
Extinguishes Class D fires.
Non-toxic, environmentally friendly & effective…
That's Cold Fire™
Who uses Cold Fire Canada products?
Primarily first responders including Fire & Rescue, Police, Military and Emergency Medical Services. However, Cold Fire and Fire block are also used everyday by auto haulers, trucking companies, construction companies, stunt teams in the movie industry and civilians who use Cold Fire aerosol cans for around the BBQ, the kitchen and vehicles.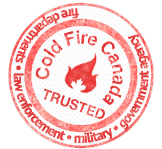 Cold Fire™ cools 21 times faster than water, and works to remove heat and fuel sources from the fire tetrahedron, therefore preventing re-ignition.
Completely 'green' and non-toxic, Cold Fire™ puts out any Class A, B, D or K fires, hydrocarbons or polar solvents, as well as metals, tires, asphalt and more. Cold Fire™ also suppresses vapours and helps to remediate spills. UL Classified, UL File #ex4660 (Note: contents of spray can are UL Certified, the actual can is not)
Cold Fire™ is the future of fire suppression, giving trained personnel offensive options not previously considered. Re-equipping the suppression tool box with a combination of firefighter safety and offensive tactics allows attack teams a new level of confidence, with the adaptability to almost every fire emergency. "
Ward Clapham
Chief of Police & Superintendent RCMP(ret)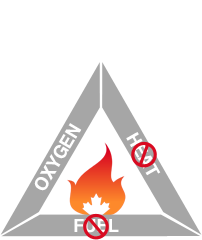 Designed for a fast, effective response that saves lives.
Cold Fire™ was designed to save lives. It's cooling properties work to remove heat and fuel sources. This allows users to immediately touch the burnt surface, whether that be a car door or a piece of equipment.
Further, Cold Fire™'s non-toxic properties benefit both the environment, firefighters and fire victims. Because the product does not contain any harmful or corrosive chemicals, Cold Fire™ can be sprayed directly onto a fire victim and its cooling properties will allow a fast, potentially live-saving medical response.
---
See how Cold Fire™ can be used in the following industries